This Posts may contain affiliate links. This means we earn a commission from sales made via product links in this post. For more information click here.
Spending quality time with family strengthens the bond between family members, creates memories, and helps kids feel loved and appreciated. Here's 15 simple ways to enjoy the time with your family. Click through to find ideas that are simple, cheap, and easy to fit into family life.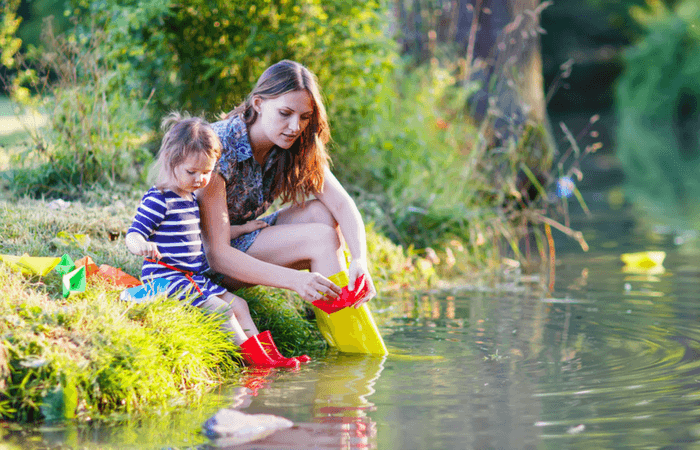 Not right now.
Just let me finish this ….
Maybe later
Do you find yourself saying those words over and over? I did! We were a busy clergy family and there was always so much to do. Then one day one of my boys asked, "When do we get to be parishioners?"
He had seen us make time for the people of the parish. Now he wanted to know, "When will you make time for me?"
The question seared into my heart. I gazed into my son's questioning eyes and realized how much he had already grown. In an instant I saw how fast his childhood was flying past and how much I had already missed. On that day I vowed to put aside the busyness and spend time with my boys.
I never regretted it. And looking back I know it was the right choice and something I would do over if I had the chance to start again.
Why Should You Spend Quality Time With Family?
Playing with the kids is more than just a good time, according to the American Academy of Pediatrics. Their studies suggest that playing with the kids increases a child's mental health  and strengthens the bond between family members. Additionally, having kids is one of the most fun things an adult can do, because you get to play with all your favorite toys again!
[Tweet "Finding things to do with the kids is as easy as using a little bit of imagination."]
Whether hanging out on a rainy day or getting into the sunshine. You'll make memories with your kids that will last a lifetime. Keep these ideas on hand for a full day of fun or last minute fixes for bouts of boredom.
Fun Indoor Time
A wonderfully fun indoor idea is building a fort in the living room. Grab the blankets and go to town!
When the fort is finished, play a game of hide and seek. After all you've made more places to hide.
Make ice cream (maybe eat them in the fort for a fun change).
Bring out some board games such as Snakes and Ladders.
Bubbles are another great indoor activity. They are made from soap and water, so that makes cleanup easy!
Get into the kitchen and create some clean mud for children who like to explore sensory crafts. To make mud just tear up toilet paper, grate pure soap, add water, then mush together. Now you have mud that washes off easily.
Bring the Outdoors In
Combining the outside with the inside is fun with some planning. A little bit of preparation and creativity lets the family enjoy fun outdoor activities despite the weather.
Set up a child sized tent in the den then go camping with microwaved marshmallow treats and popcorn.
Gather pine cones and create bird feeders in the kitchen with peanut butter and birdseed to be hung later.
Use binoculars from the living room window to watch wildlife without scaring them away with the squeals of joy that are sure to ensue.
Fill the bathtub and let everyone get into their swimsuits for some water fun when the weather isn't co-operating.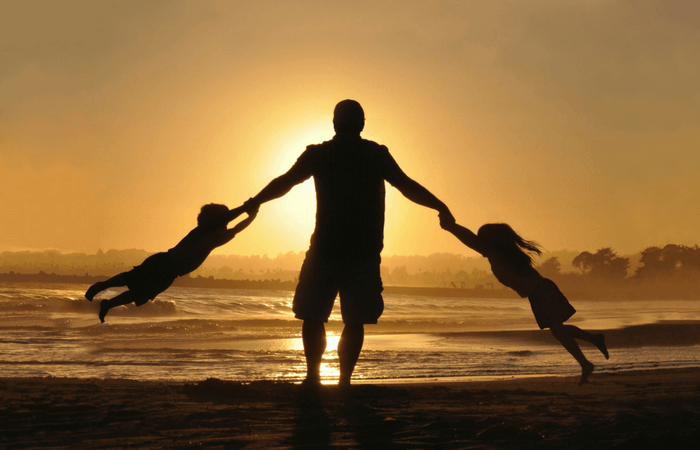 Get Outside and Play!
The open outdoors provides so many opportunities, including heading to the playground or local pool. If traveling isn't an option, however, go on a scavenger hunt around the yard. List out things that occur naturally, such as flowers, pine cones, stones and more. For added fun, give each person a disposable camera, tablet or cell phone, and task each person with taking pictures of list items.
Take those bubbles outside, or bring a bin of warm water.
Play with a frisbee, launch a kite into the air, or just go for a walk.
Make a fairy house
Try some land art
Make paper boats and sail them
Talk to the kids on the walk about the scenery, and remember to get imaginative. Find out who can create the best story about something as simple as finding a salamander in the woods. Where is he going? Where has he been?
While these activities are fun, they are also opportunities to bond. The children will carry fond memories into their adulthood when parents practice a little imagination. A little time spent now impacts them for the rest of their lives.
Your Turn
How do you spend time with your family? Share your ideas in the comments below.