This Posts may contain affiliate links. This means we earn a commission from sales made via product links in this post. For more information click here.
Kids are natural scientists. Even the youngest baby explores the world around them. Preschoolers are constantly investigating all kinds of scientific principals as they play, while older children will be able to impress you with all kinds of interesting scientific facts.
Most children delight in the outdoors and often have strong connection with the natural world.
As parents we can take advantage of our children's natural curiosity by enjoying some simple science activities with them.
They are fun, educational, and often memorable. They are also very impressive! So pick one of the activities listed below and get ready to wow your kids!

1. Bottle Composter
Make a bottle composter and watch decomposition in action. This activity has the all-important yuck factor. Children are fascinated by mold and other yucky science. They delight in this kind of activity. Every week for three weeks:
Mark any level changes on the bottle with a permanent marker
If it gets too moist take the lid off to help dry it out a little bit.
If it gets too dry add a little water.
Watch out for the bacteria and fungi (mold)! It is amazing!
Notice what happens, including the fact that the bottle doesn't change or break down at all.
While you are waiting for your composter to work, head over to You Tube and watch a time-lapse video of a watermelon decomposing. It is delightfully disgusting!
2. Crawling Colors: Learning about mixing colors
Parenting chaos has a fun activity  to help your children learn about mixing colors. If you wish you could also talk about the capillary action that makes this experiment work.
3. Vinegar and Baking soda Activities:
These explosive activities are always impressive and include
I am definitely going to try the exploding bags with my children's group at the library
4. Static electricity Experiments
Static electricity is fun  and haven't met a child who isn't fascinated by the strange powers of the electrical charges.
5. Dying flowers
Amaze your children with this visually stunning experiment. Not only will they see how water moves through a plant, but they will also end up with a colorful centerpiece for the table.
A gentle reminder
These activities are meant to help you spend time with your kids and make memories. The emphasis should be on having fun together.
If your child shows an interest in the science behind the activity then by all means enjoy researching it together. Don't force it if they are not interested. Learning will happen anyway, but having a good time together is really important too.
Safety First: Follow any safety recommendations given and make sure young children are supervised.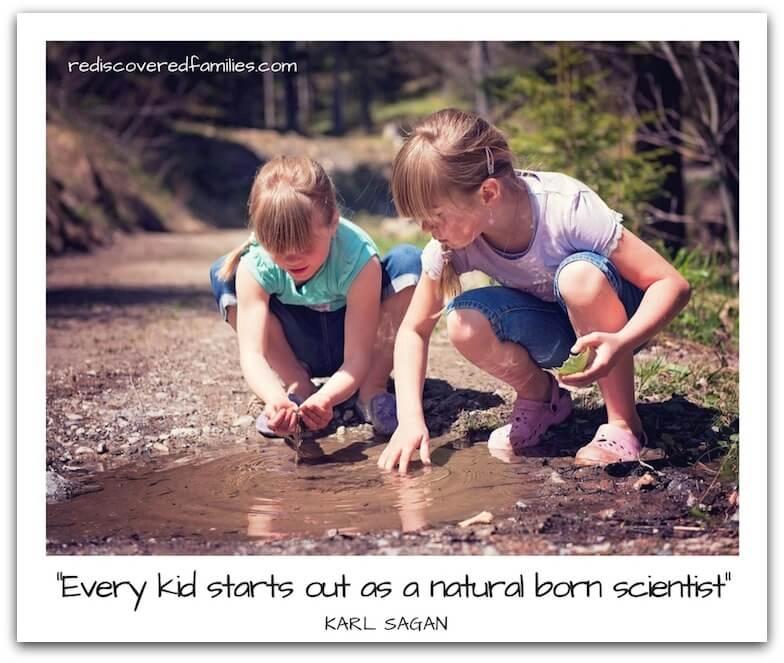 Now it's your turn
What kinds of science activities have you enjoyed with your children? Please share your links in the comments below.
Want more?
Check out all my science activities
Take a look at my Science Fun Pinterest board
Science Fun
Save
Save