This Posts may contain affiliate links. This means we earn a commission from sales made via product links in this post. For more information click here.
This small change in your holiday planning will give you a simple Christmas season without the stress and exhaustion. Your family will benefit because a calmer, happier parent means a happier family.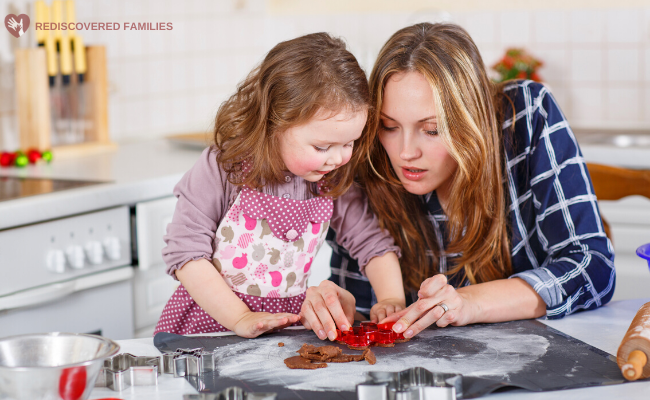 Christmas is coming! Does the thought fill you with excitement? Or with anxiety? Are you full of joyful anticipation? Or wondering how on earth you will get everything done and stick to your budget?
The less attractive side of Christmas
Where I live the Christmas season is ramping up into full gear.
The mailbox is full of Christmas sales flyers.
The stores are full of Christmas stuff and we are bombarded with loud obnoxious advertising.
Pinterest is full of images depicting an impossibly perfect Christmas
It's enough to make me want to join the Grinch in his cave at the top of the mountain.
You see I hate that part of Christmas. The consumer driven, frantic, Pinterest perfect frenzy that seems to take over at this time of year. You too?
But there is so much about Christmas that I love
The sparkling eyes of the preschoolers as they help me decorate the children's room in the library.
Sharing a good cup of tea and a piece of Christmas cake with my love.
The quiet moments of candles, twinkling lights, and wonderful music.
Watching The Christmas Carol and It's a wonderful Life.
The hugs of my boys as they arrive for a special meal and family time.
Skype calls with my parents, brothers and their families on Christmas Day.
Those are the things that make Christmas for me. Imagine a simple Christmas that is calm and stress free. How does that sound? How about time with family? Or a celebration full of joy? That's what I want. How about you?
Newsflash: We have the power to create the kind of Christmas we desire
I have discovered that we can create a magical Christmas without all the stress. The first step is to write yourself a permission slip.
Wait. what?
I know it sounds silly? Bear with me, because I'm going to explain.
The change that makes all the difference
At this time of year there seems to be so many expectations.
It isn't Christmas until you have chosen a decorating theme and created elegant arrangements in every room.
You will of course attend every event you are invited to. Otherwise someone's feelings could get hurt and how can we offend great aunt Agatha?
You must have mounds of gifts decorated with ribbons and home painted tags.
Everyone is expecting your lovely newsletter filled with witty accounts of your exciting family adventures.
How can you possibly think of sending store bought goodies to your child's school party. What will everyone think?
What if we stop trying to create the perfect Christmas?  Who decides what the perfect Christmas looks like anyway? It is usually someone that is trying to sell you something right?  And somehow we get sucked into the madness. And you know what? We end up tired, stressed and resentful.
Instead let's write ourselves some permission slips as Christmas approaches.
What do you have to give yourself permission to do (or not to do) in order to have the Christmas you desire?
Here are mine. I give myself permission to
Sit and watch my favorite Christmas movies.
Skip cleaning the house from top to bottom (for some absurd reason I've always felt I had to do this before I could decorate).
Tell my inner perfectionist to be quiet.
Skip writing the Christmas newsletter this year.
Pick a few decorations and leave the rest in their boxes.
Skip the Christmas baking.
Hey I feel lighter already. And guess what? It will still be Christmas even if I don't write the Christmas newsletter, clean the house, or put up every decoration we own.
Give yourself the gift of a simpler Christmas
Since it is much easier to give other people these kinds of permission slips I've written a few to give you some inspiration. You have permission to
Do something fun with your kids instead of organizing the church pageant, attending the office party, or (insert a Christmas obligation that brings you no joy).
Serve shop bought treats instead of baking and decorating Pinterest worthy Christmas sweets.
Say YES to whatever brings you peace, joy, and calm.
Say NO to whatever brings stress?
Say yes to your needs
Buy fewer gifts.
Buy no gifts.
Skip writing Christmas cards this year.
Ask your family to help with (whatever Christmas thing you need to delegate).
Some questions to help
So what do you think? Will you banish those pesky shoulds and oughts? Will you write yourself one of those permission slips? I would encourage you to make a cup of your favourite hot beverage and sit with the following questions.
What kind of Christmas do I desire?
What do you have to give yourself permission to do (or not to do) in order to have the Christmas you want?
Then write yourself some permission slips. I would love it if you would share some of your ideas. In the comments below tell me what permission slips you are writing for yourself this year.
Related: What Preschoolers Can Teach You about Christmas.