This Posts may contain affiliate links. This means we earn a commission from sales made via product links in this post. For more information click here.
Want some cheap summer fun that won't break your budget? 1500 children were asked to rank their favourite summer activities. Check out their list. You won't believe what the #1 favourite is. It's going to be a great summer!
What do you remember about your summers as a child?
I remember bright blue sunlit skies, lazy days, no school; summer hikes, munching on wild berries, weaving daisy crowns and the buzz of honeybees.
We had picnics by the river, climbed trees, and tried in vain to stand on our hands. I have such happy memories of those long relaxed summer days.
What kind of summer you want for your children?
In 2012 a major grocery chain in England surveyed 2,000 parents and 1,500 children about their summer activities. The results were really interesting.
What the parents thought
29% worried their children wouldn't have an enjoyable summer if they didn't have any outings to theme parks.
36% planned costly day trips/excursions (spending on average £183.00/$260 per child).
41% worried their kids would be bored if left to enjoy simple activities and free play.
Do you have similar worries? Do you find yourself booking expensive trips or clicking through endless summer activities on Pinterest?
You are going to love what the children said.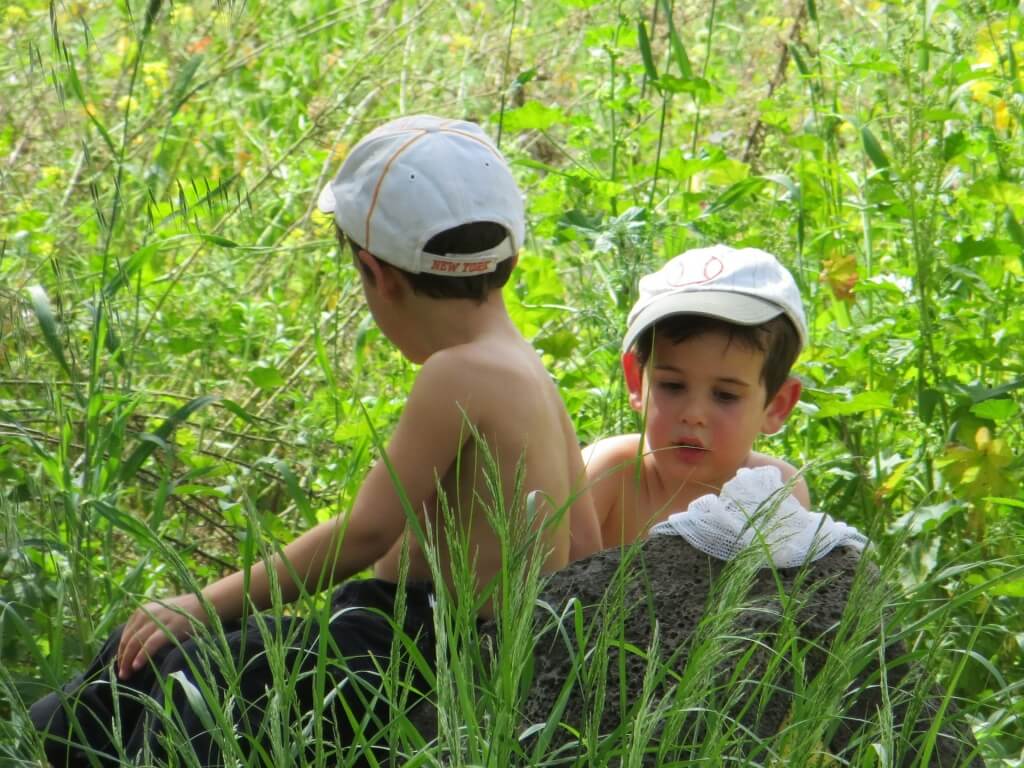 What the children said
The children were asked to rank their favourite summer activities. They had to rate each activity on much fun it was, how happy it made them feel and how special and memorable it is.
Are you ready for the results?
The UK's top 12 summer activities, as voted for by kids across the country were:
Play date in the park or garden
Water fight
Building a den in the garden with family or friends
Bike ride
Outdoor games such as tag or hide & seek
Climb a tree
Mud pie making
Berry picking
Eating ice cream in the sun
Feeding the ducks
Planting flowers
Trip to the cinema
Do you notice how simple  these activities are?
In fact the top 12 are all low cost or free. They are the simple pleasures that I remember from my childhood.Children also reported that they enjoyed
Picnics
Playing in a paddling pool or sprinkler in the garden
Flying a kite
Trip to the local beach/outdoor swimming pool or national park
Backyard camping with family or friends
There's more good news for parents
When quizzed more generally about their summer holidays at home
47% children rated playing in the park or back garden higher than going to places they haven't been to before. In fact as long as they have friends to play with most kids said they are very happy to occupy themselves in the garden.
59% confirmed that they like playing outside with their friends the most.
26% say no activity is boring when you have your friends by your side.
When asked to choose their ultimate summer wish,
39% picked summer sunshine for the entire duration of the holidays
32% chose hanging out with friends
25% wanted to see more of their mum and dad
29% said they wanted to camp out in the garden
What does this mean?
Good news parents! You don't have to pay out for expensive outings to give your child a spectacular summer. Neither do you have to face the summer holiday crowds at noisy tourist venues.
All your kids really want to do is play with their friends and hang out with you more.
An Added Bonus
Studies are increasingly showing that lots of free play is THE best way to give your kids an academic advantage. Say goodbye to Pinterest activities and hello to lazy summer days!
It's time to listen to our kids
When I think about it simple pleasures like playing with friends and bike rides are some of my fondest childhood memories. Let's give our children the gift of long, lazy summer days filled with play and laughter.
Summer memories last a lifetime, so we need to pay attention to what the kids have said in this study.
Instead of spending money on expensive outings let's make sure they have the freedom to go outside, build dens, have water fights, climb trees and play in mud.
We can't do anything about summer sunshine, but we can camp out in the garden, try our hand at land art or enjoy some easy play activities.
Instead of worrying about enriching educational activities or Pinterest worthy summer activities let's just invite their friends over.
While they make their own fun we can sit back and sip on a cold beverage.
How does that sound?